The Back in Shape with Baby Story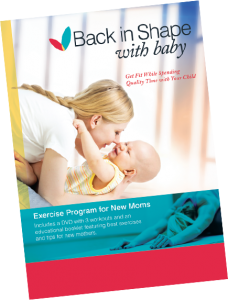 Exercise With Mommy, LLC. was created in 2004 by me, Amy Burton. I was your typical mom working a full-time desk job, who just wanted to get back in shape and stay in shape once I had my baby, Luke.  Luke spent many hours a day in daycare while I was at work. I wanted to spend time with him when I was home and exercising was a must, so I created a way for Moms to get fit while spending quality time with their child.
Many years have passed but the concept for Back in Shape with Baby has matured just like both Amy and Luke! I have always been passionate about fitness and have created several obesity prevention programs over the past 10 years. I am an American Council on Exercise (ACE) certified Personal Trainer with additional training in pre and post-natal fitness and youth fitness.
I offer consulting services and customized obesity prevention initiatives through my company, Focused Fitness Solutions. Visit my Facebook page to learn more.
Happy Exercising!
Amy Burton
President and Founder
Exercise With Mommy, LLC.
Amy Burton
Amy Burton is a Marketing and Sales professional with a lifelong interest in fitness. She currently works for a digital technology company serving the health care industry. Amy left her role as Director of Marketing at Johns Hopkins All Children's Hospital in 2016 to pursue her own business ventures. Prior to the children's hospital job, she worked as Director of USF Health Partnerships for the University of South Florida.
Amy has been an American Council on Exercise (ACE) personal trainer for the last 16 years. In her spare time while working in sales for WTSP-TV(CBS), Amy created the Exercise With Mommy video series. Years later, she partnered with Dr. Sheila Devanesan, Obstetrician-Gynecologist, to design an obesity prevention program for pregnant woman. This program received grant-funding and became Fit4AllMoms at Johns Hopkins All Children's Hospital.
Now Amy is bringing together her 20 years of marketing and sales experience along with her passion for obesity prevention to contribute to improving health outcomes in underserved populations. In addition to these efforts, she is a consultant for health systems and other companies in the health care industry. For a more complete history of experience, connect on LinkedIn.